BPD Episode: What It's Like + Reaction 4 Years Later (Video)
In this video, I read my first ever blog post from 2019 detailing what a BPD episode looked like for me at the time at the start of my BPD recovery journey). I also provide a present day reaction in 2023 – times have surely changed since then.
BPD Triggers for BPD Episodes
Common triggers for BPD episodes can be…
Delayed responses
Being ignored
Short or unmoved responses
Being told no
Having ideas or suggestions ignored
Being left out of a conversation or event
Loud noises
Being laughed at
Unmet needs
Disappointing others
Unmet expectations
Constructive criticism or negative feedback
Being proven wrong
Separation from Favorite Person
Not being kept in the loop
Being called out
Getting laid off or told to leave
Change of plans
Not understanding a joke between other people
Being replaced
Lack of quality time with closest loved ones
Traumatic memories
Being disagreed with
Being ganged up on
Does this mean you should walk on eggshells around someone with borderline personality disorder? No. It doesn't. However, there are things you can do when saying no to someone with BPD that may help reduce intense emotional responses.
What People with BPD May Feel During a BPD Episode
On top of displaying intense rage, all or nothing thinking or anxious attachment – during BPD episodes, people with BPD may feel the following…
Like they're unimportant, worthless or unlovable
Unseen / unheard
Overwhelming shame / guilt
Paranoia
Forgotten
Despair
Younger than they are
Like they don't exist
Like a lost child
Numb
Not everyone with BPD is quick to show those feelings. Often, people with BPD will push their loved ones away during these times or they will mask it with rage. Don't be quick to shut them out while they're having a BPD episode. What's happening underneath the surface is more than meets the eye. At the end of the day, people with BPD often do experience emotional empathy and usually, they have an abundance of it. They are capable of giving and receiving love and do not want to hurt their loved ones. What they need is treatment. BPD is a treatable condition, as long as the person is willing to get help.
Read the text version of my BPD episode here.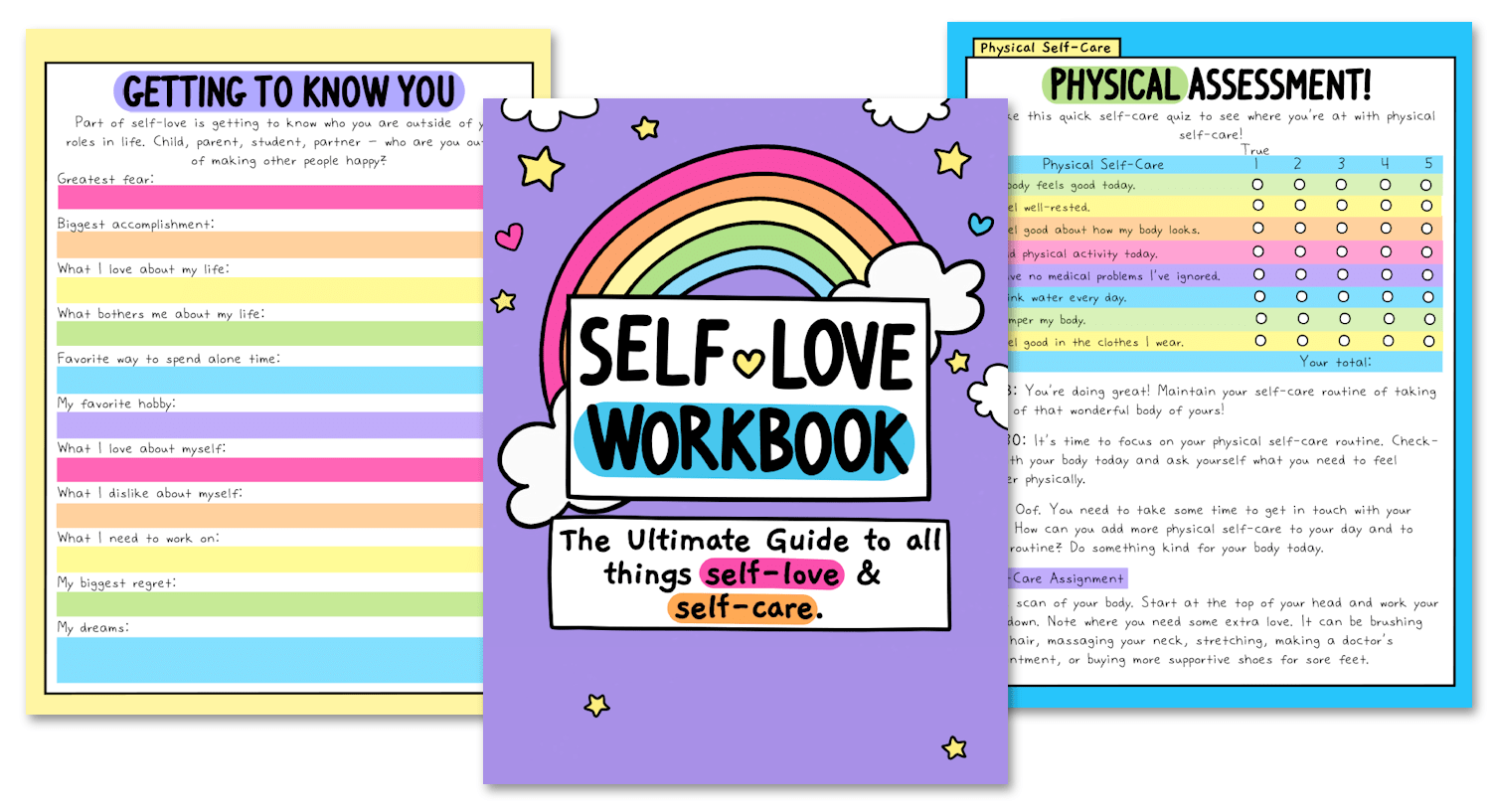 The Self-Love Workbook
This 103 page digital workbook comes with three different PDFs – full color, a version with no color backgrounds, and a black and white version (to save on printing costs). You get access to all three and you can print whichever one works for you!
DOWNLOAD NOW FOR $10
Each .pdf is capable of being filled in digitally. With Adobe on your desktop computer or on an app like XoDo for your phone, you can type your answers into the .pdf and save your progress without ever needing to print it.